Foreign VAT Refunds Guide from Canada
The following information details the requirements needed to be eligible for a VAT refund in Canada. These include claimable expense types, the Austria VAT rates and deadlines, as well as claiming periods.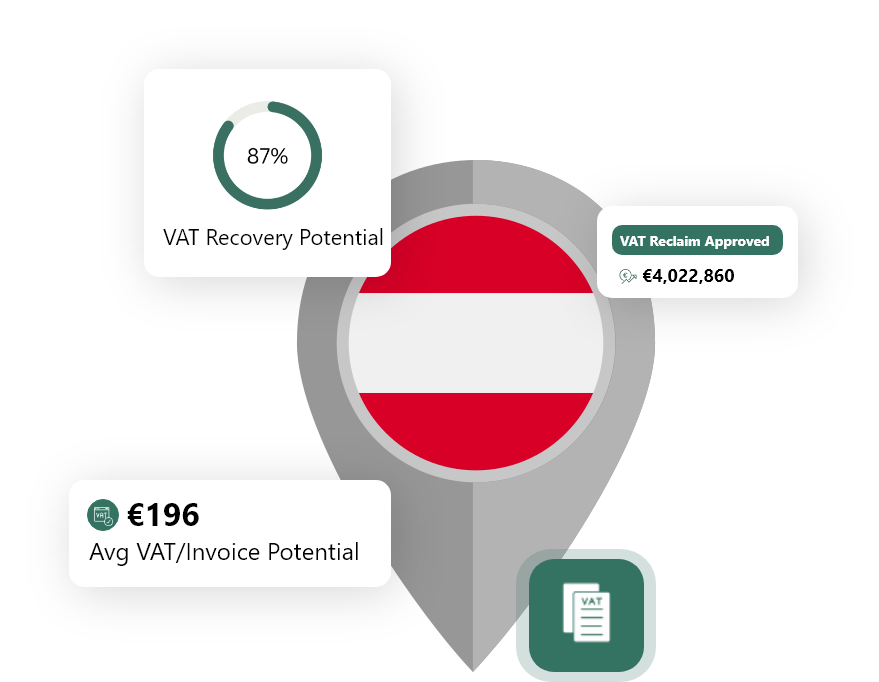 What Expenses are Claimable for VAT Refund in Canada?
Training, Courses & Seminar
What are the Canada VAT Rates?
Canada imposes a Goods and Services Tax (GST) and, in certain provinces, a Harmonized Sales Tax (HST). Unlike a VAT, these taxes are not normally deductible by businesses. Here is Canada's HST/GST breakdown:
Applies to all goods and services.
Depending on the province, the rate varies from 13% to 15%.

The HST is a combined tax structure that includes the federal GST and a provincial sales tax component. It is implemented in the following provinces:
• New Brunswick
• Newfoundland and Labrador
• Nova Scotia
• Ontario
• Prince Edward Island

In provinces where HST is not applied, a separate Provincial Sales Tax (PST) must be paid. Rates vary by province.
How to Get VAT Refunds from the Canada for Your Business?
Frequently Asked Questions About Canada VAT Recovery
Need Help with Your VAT Refund from Canada?
We have helped companies reclaim €200+ M in VAT refunds over the last eight years. Our expertise and technology allow us to process your refund quickly and automatically.